Opening Dec 11 2022. Open Dec 16-18 and 28-29 12-4 pm and Jan 6-8 12-4 pm
Scroll down for english version
Han slutade väva när jag blev till
Jag minns att min pappa fortfarande hade vävstolen monterad när jag var barn, men jag kan inte minnas att han vävde. Kanske fanns inte behovet längre, kanske fanns inte tiden. Eller handlade det om avsaknad av ett sammanhang eller en omgivning som tar en på allvar?
Tiden förflöt, jag växte upp och blev konstnär. Pappa utbildade sig till lärare, startade ett litterärt sällskap, tonsatte dikter och blev kultursekreterare på den lilla orten de sista åren innan han gick i pension. Nu fyller han 70 och trots att tiden borde finnas står hans bildskapande fortfarande på paus. Men vävarna finns kvar, liksom vävstolen (om än nedpackad).
Förra året ställde jag ut farmors gravtäcke, som hon broderade tio år förutseende sin egen död. En sol, ett regn, en båge, landskapsblommor, fåglar och initialer täcker linneduken – allt broderat med största noggrannhet och omsorg. Trådarna sammanlänkar familjen.
Jag gjorde själv textila verk under en period när min hälsa började ge vika. Det återkommande motivet var ett kranium, med ett stort hål i huvudet, som jag trodde föreställde någon annan. När jag hade sytt klart de stora våderna på min alldeles för lilla resesymaskin av märket Hugin, köpte jag en industrimaskin som sedan stod i min ateljé i flera år utan att den kom till användning.
Varför gör jag den här utställningen? Är det mer än en hyllning till min pappa? Önskar jag att jag kan ge honom hans kreativitet tillbaka. Eller vill jag bara tala om svårigheten att skapa själv, när vändningar i livet tar all kraft.
Vart tar all outforskad potential vägen? Enligt teorin om parallella universum, förlöses kreativiteten just nu i ett annat rum, kusligt likt vårt eget.
Varför befinner vi oss då här?
Joakim Forsgren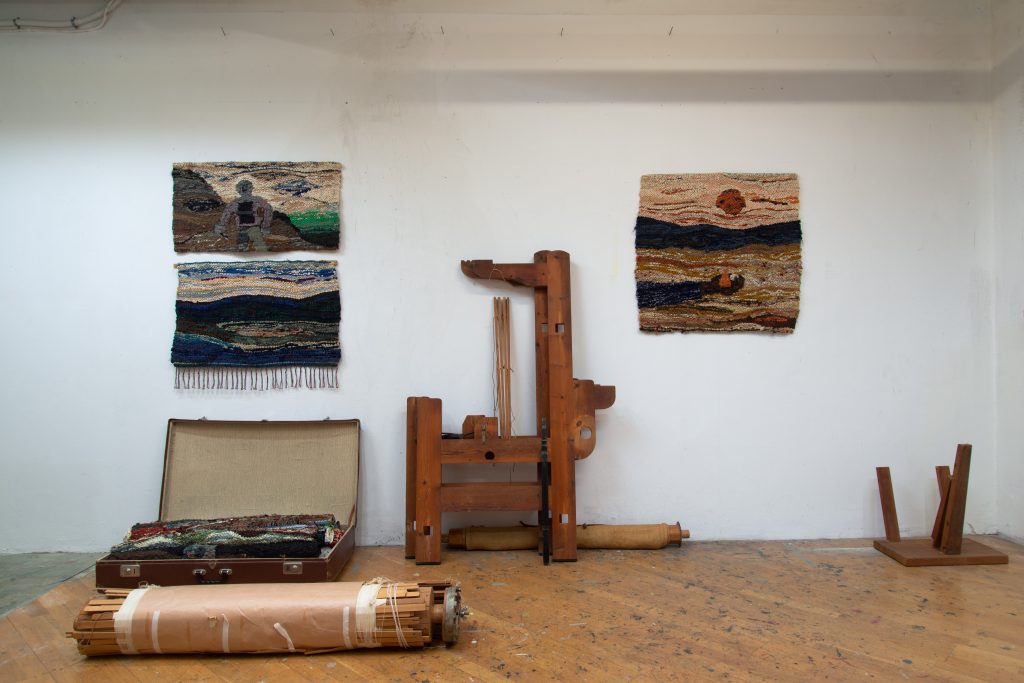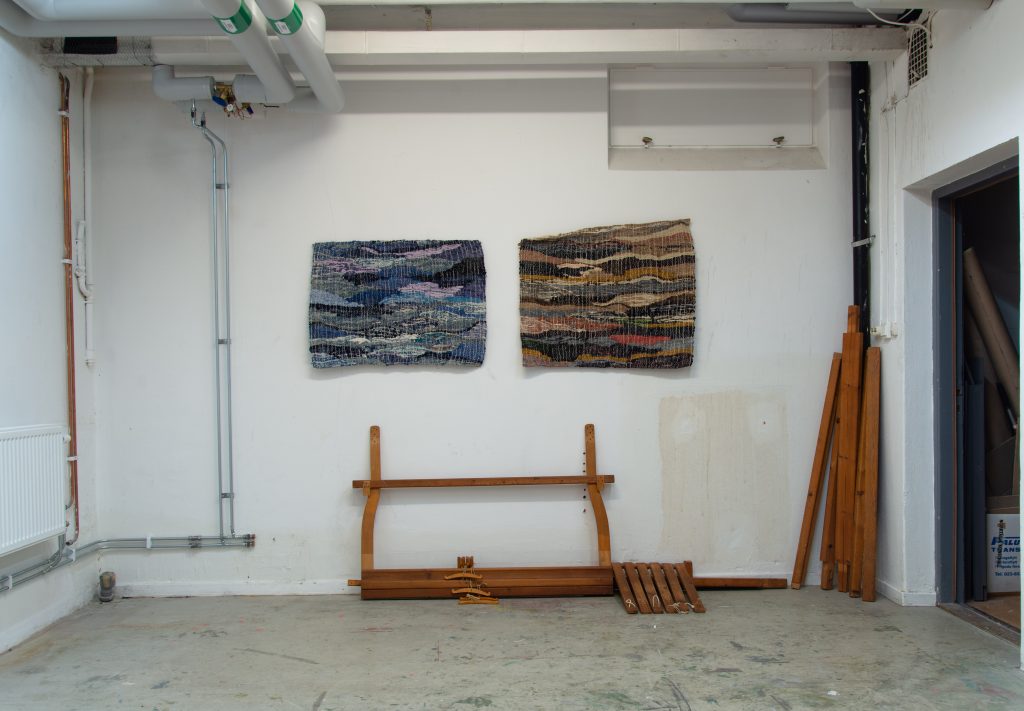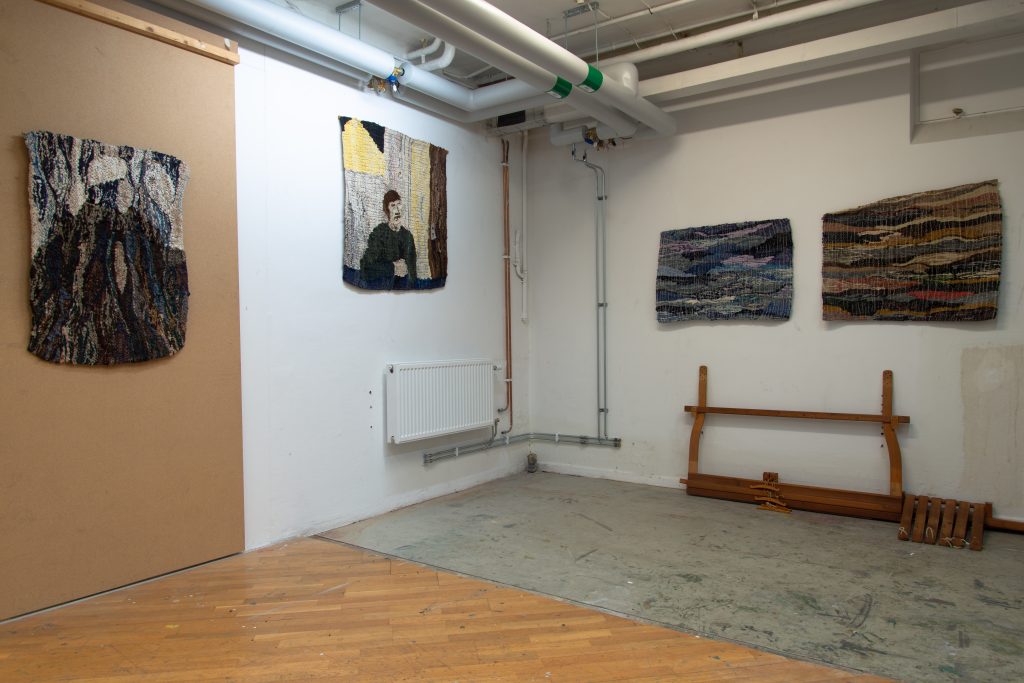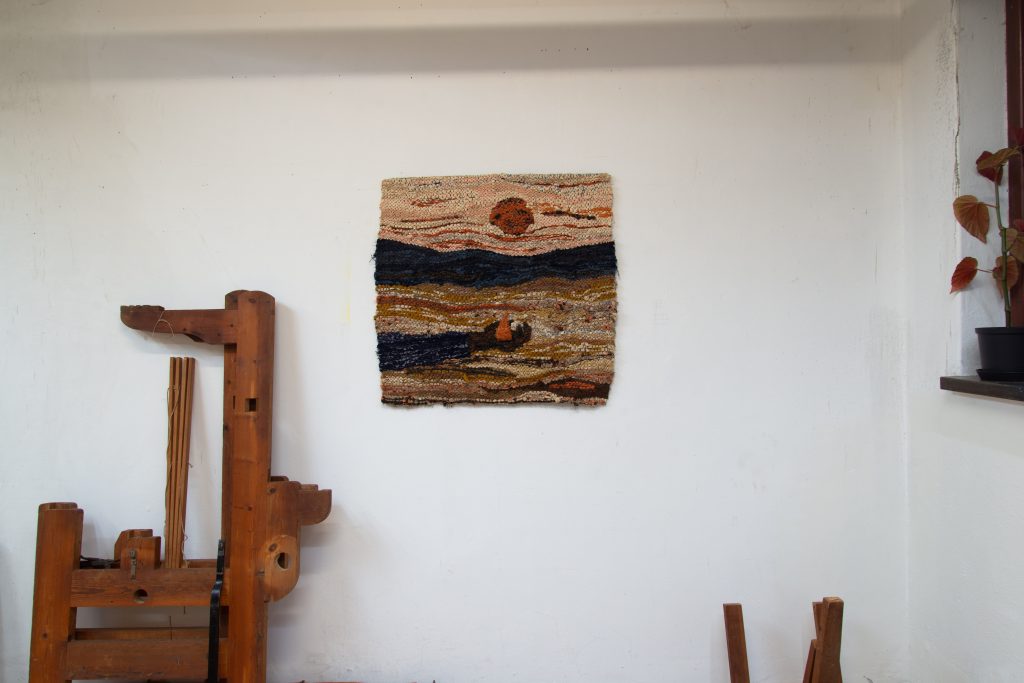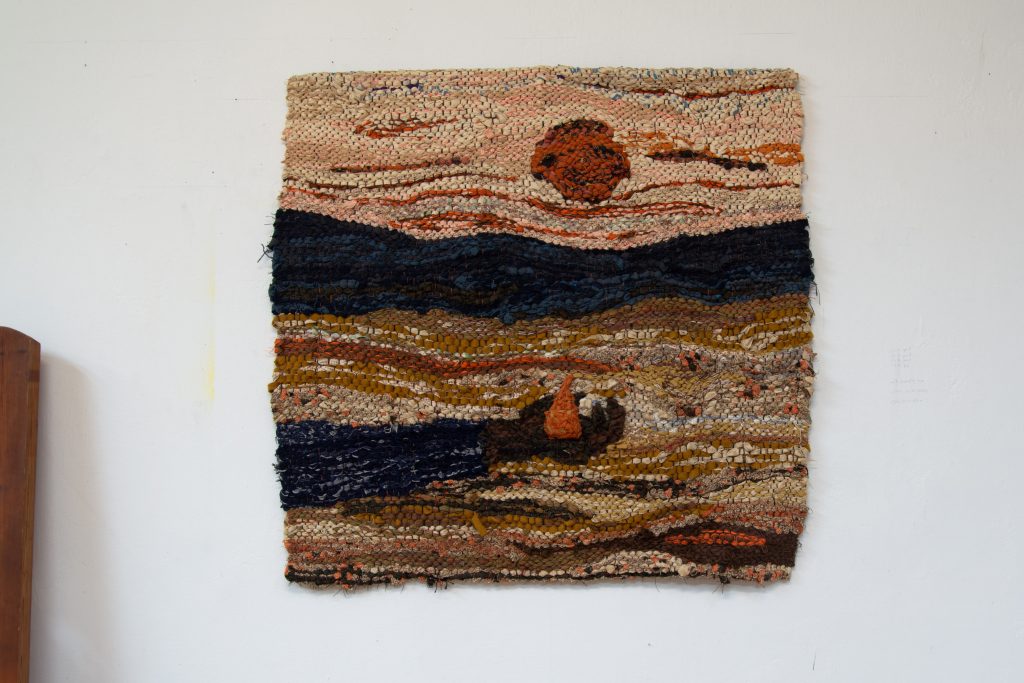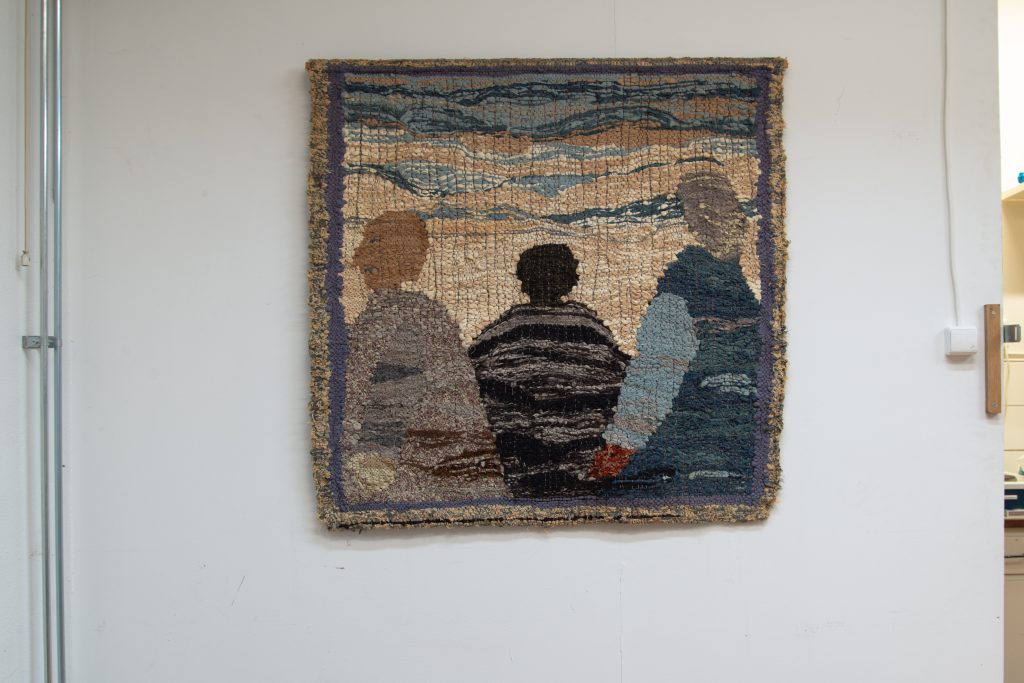 He stopped weaving when I was born
I remember that my father still had the weaving loom assembled when I was a child, but I can't recall him ever using it. Maybe he didn't have the urge anymore, maybe he didn't have the time. Or was it for lack of a context or a milieu where creativity is taken seriously?
Time passed, and I grew up to became an artist. In the meantime, my father obtained a teaching degree, started a literary society, set poems to music and became cultural secretary in the little town where he lived the years before his retirement. He is now about to celebrate his 70th birthday and, even though he now has the time, his artistic ambitions are still on hold. The tapestries are still in existence, though, as is the loom (albeit now disassembled, in storage).
Last year I exhibited my grandmother's tomb cover, which she presciently embroidered ten years before her death. A sun, rain, a bow, provincial flowers, birds and initials fill the linen sheet – meticulously embroidered with the utmost precision and care.
During a period in which my own health declined, I too turned to making pieces based in textiles. A recurring motif was a skull with a big hole in it, that I thought represented someone else. When I'd finished the long widths with my small portable Hugin sewing machine, I bought an industrial machine that ended up being in my studio, for years without ever being used.
Why am I putting together this exhibition? Is it more than a tribute to my father? Is it a wish to give him back a modicum of his creativity? Or do I simply want to point to the difficulties of creating, when life's unexpected twists and turns drain you of all energy.
Where does all the unexplored potential go? According to the theory of parallel universes, that creativity is unleashed right now, in a space uncannily similar to our own. If that is so, then why are we here?
Joakim Forsgren
Translation: Samuel Fried