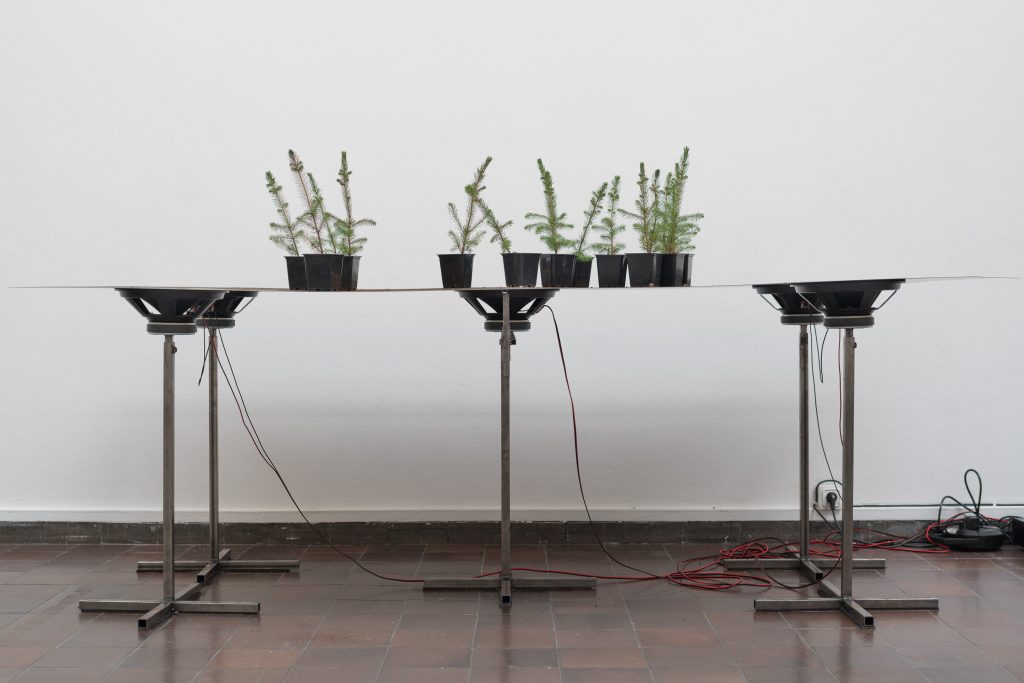 Skog / The Forest 2017
Joakim Forsgren has spent a number of years looking to understand the mindset and motivations of right-wing nationalist movements in Sweden. His art seeks to unpack the historical symbols and figureheads appropriated in ideological ways by these movements.
The work The Resurrection of Carolus Rex has numerous components and continues to expand. It considers the figure of Carolus Rex (Charles XII), the infamous Swedish 'warrior king' appropriated as a nationalist icon. Research led the artist to some surprising anecdotes that bring a complexity to the figure of Carolus Rex: whilst lying sick in the city of Bender, in present day Moldovia, the king became obsessed with depictions of the landscape gardens of Constantinople sent back by emissaries. Mistaking the cypress trees for Norway spruce (Picea abies), the king had the idea for a similar plantation in Stockholm, a proposal that was immediately discarded by the royal architect. During the same era, the natural spruce forests in rural Sweden were continuously cut down to supply heat in iron mills. Today, most of the spruce forests, the symbol of Swedish nature, have been planted by man.
There are a number of items in the display, including tapestries, sound sculptures, and silhouettes of Carolus Rex, all made in Forsgren's typical homespun garage aesthetic. Additionally, the works focus on the fatal bullet hole in the king's head, as photographed when the body was exhumed in modern times.
A new component to this body of work is the table-like sound sculpture which incorporates spruce plants that vibrate from a droning tone. The artist conceived this idea during a performance with Leif Elggren, where Forsgren in an act of improvisation, placed spruce plants in Elggren's motorised tincan crowns. For reasons other than artistic, Forsgren later discovered experimental research on how sound and light in certain frequencies can affect the function of human cells and even reverse symptoms of neurological diseases like Alzheimer's and Parkinson's. With generating sound, without strictly being for the ear, comes the possibility to take back one's self determination.
– – – – – – – –
Joakim Forsgren har länge intresserat sig för motivationen och arbetet bakom högernationalistiska rörelser i Sverige. I sin konst analyserar han dess symboler och centralgestalter. Verket The Resurrection of Carolus Rex består av en rad olika komponenter som byggts på under lång tid. Verket handlar om den ökända svenska "krigarkungen" Karl XII som blivit en nationalistisk ikon. Forsgren har i sin efterforskning upptäckt en mer överraskande och komplex bild av kungen som ofta utelämnas i den officiella historieskrivningen.
När Karl XII låg sjuk i Bender (i dagens Moldavien) blev han besatt av landskapsbilder från Konstantinopel (dagens Istanbul). Det han trodde var cypresser på bilderna visade sig i själva verket vara granar och det gav honom idén om en granträdgård i Stockholm – ett förslag som omedelbart förkastades av den kungliga arkitekten Tessin. Vid den här tiden höggs granskogarna ned för att ge bränsle till järnbruken. De granskogar som vi idag ser som symbolen för svensk natur är därför oftast inplanterade. Med en hemsnickrad estetik kännetecknande för Forsgrens konst presenteras en mångfacetterad installation som väver samman en rad olika historier och består av gobelänger, ljudskulpturer och silhuetter av Karl XII. Verket fokuserar även på det fotografi av det dödliga skotthålet i Karl XIIs huvud som togs när kroppen i modern tid grävdes upp.
Ett nytt inslag i verket är den bordsliknande ljudskulpturen där ett brummande ljud får granplantor att vibrera. Joakim Forsgren fick idén under en performance tillsammans med Leif Elggren när han själv, i en improvisation, placerade granplantor inuti Leif Elggrens motoriserade kungakronor av konservburkar. Senare blev Forsgren medveten om ett forskningsprojekt där det experimenteras med specifika frekvenser av ljud och ljus som sägs kunna påverka mänskliga celler, och därmed lindra symptom på neurologiska sjukdomar såsom Alzheimer och Parkinsons. Genom att framkalla ljud, som inte enbart är avsedda att lyssnas till, skapas möjligheten att återta en annan form av egenmakt.
Joakim Forsgren bor och arbetar i Stockholm
Verket producerades för Göteborgs Internationella Konstbiennal (GIBCA) 2017 och visades på Göteborgs Konsthall.
Med stöd från EMS Elektronmusikstudion
Tack till Isak Nordell/SVART, Mikael Goralski och Jan Håfström
Photos by: Hendrik Zeitler